CHIROPRACTOR in Delray Beach FL

If you suffer from a painful condition and can't seem to find a treatment that gets you the results you need, our chiropractor in Delray Beach FL, Dr. Elan Schrier, may be able to help. To learn more about how chiropractic can help restore health and function call us to schedule a free consultation.
---
Some of the conditions that our chiropractic clinic has treated successfully include: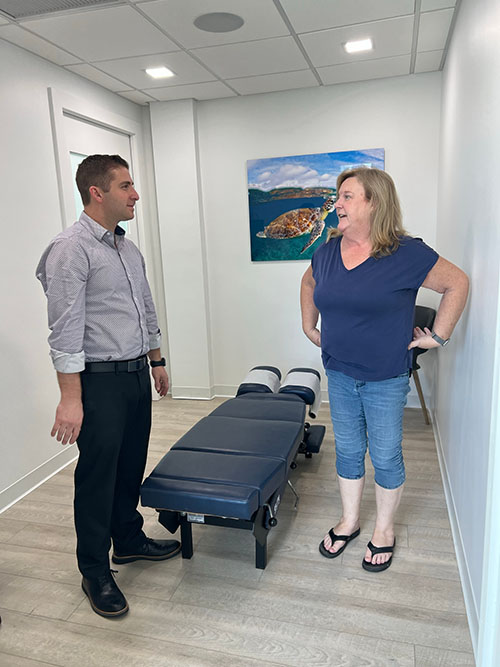 For more information and to find out if chiropractic treatment is right for you, schedule a free consultation today.
---
WHAT DOES A CHIROPRACTOR DO in Delray Beach FL?
A chiropractor uses a variety of non-surgical methods to treat a range of different conditions and injuries. A chiropractor will evaluate, diagnose and treat issues that relate to the musculoskeletal system. Chiropractic care is known for treating problems related to the spine and how those issues affect different body areas.
Unlike conventional approaches such as using pain medication, chiropractic care helps resolve the underlying cause of the pain so you can experience long-term pain relief. It is also gentle in nature, unlike surgical procedures that are highly invasive and often require lengthy rehabilitation and recovery times.
Some of the different chiropractic treatments we offer include adjustments, laser therapy, and spinal decompression. These treatments may be performed on their own or in combination with other treatments. Once we can assess your situation, we can create a custom treatment plan using one or more of these treatments to help you find the relief you need.
---
CHIROPRACTIC ADJUSTMENTS
Chiropractic adjustments consist of applying manual force to targeted vertebrae and joints to restore normal body function. Your spinal vertebrae are supposed to be in alignment at all times for your body to function optimally, but when they are out of alignment, you can experience a range of different symptoms, including pain.
When the chiropractor adjusts your spinal vertebrae, pressure will be relieved from any affected nerves and tissues, which will, in turn, relieve pain and improve your mobility and range of motion.
Spinal adjustments sound like they would be painful, but most people report feeling little to no discomfort because the audible cracks you hear are just gas escaping.
With regular chiropractic visits, your vertebrae will stay in place longer. Your symptoms will improve to the point that you can move freely and without pain like you used to.
---
NUCCA and Blair Upper Cervical Chiropractic Techniques
In addition to traditional chiropractic, Dr. Schrier has trained in NUCCA and Blair upper cervical techniques. NUCCA and Blair chiropractic measure the first two bones in the neck, the Atlas and Axis, to the skull. Where the skull meets the neck is a vital part of the nervous system. The atlas bone surrounds the brainstem. If there is any misalignment to the atlas, it causes a chain reaction causing compensations to the rest of the spine. When the atlas is out of alignment it can cause many different symptoms. Some are neck pain, vertigo, TMJ, brain fog, chronic fatigue, poor sleep, low back pain, sciatica, and anxiety. The NUCCA and Blair measurements are obtained by taking 3 X-ray views to create a 3D measurement of the misalignment. The adjustments are very precise but gentle. With the NUCCA and Blair techniques, there is no twisting, cracking, or popping. Patients love the gentleness of the adjustment.
---
If your goal is less pain and improved mobility without having to resort to surgery or drugs to get the job done, then visiting Schrier Family Chiropractic may be exactly what you need.
Monday
8:15am - 12:00pm
2:30pm - 6:00pm
---
Tuesday
8:15am - 12:00pm
2:30pm - 6:00pm
---
Wednesday
8:15am - 12:00pm
2:30pm - 6:00pm
---
Thursday
8:15am - 12:00pm
2:30pm - 6:00pm
---
Friday
Closed
---
Saturday & Sunday
Closed